Deadly 60 Micro 5 Pack - A



Recommended Price

£9.99

Pieces

5

Micro Deadlies

Wolf, Lioness, King Cobra, Walrus, Grizzly Bear (exclusive to pack)

Item Number

Release Year

2012

Theme:
Re-create the adventures from Deadly 60 or build your own collection of the deadliest animals on the planet.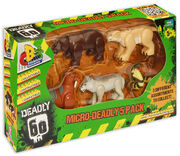 Each pack includes 5 highly detailed micro-deadlies (4 micro-deadlies from
Deadly 60 Series 1
and 1 exclusive micro-deadly).
Ad blocker interference detected!
Wikia is a free-to-use site that makes money from advertising. We have a modified experience for viewers using ad blockers

Wikia is not accessible if you've made further modifications. Remove the custom ad blocker rule(s) and the page will load as expected.