These figures are a generic range of Micro-Figures first released in 2011. They cover a wide selection of genres and roles thereby providing great customisation and fillers for the other Character Building ranges.
Blind Bags
Edit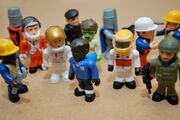 These were only sold in the US by
JDNA
(Jonic Distribution North America). There are 12 in the series.
Multi Packs
Edit
Only one pack has been released so far which contained 20 figures.
Ad blocker interference detected!
Wikia is a free-to-use site that makes money from advertising. We have a modified experience for viewers using ad blockers

Wikia is not accessible if you've made further modifications. Remove the custom ad blocker rule(s) and the page will load as expected.