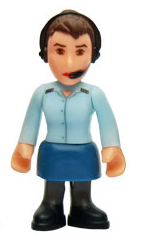 Role Description
Edit
By using radar and radio communications, an Air Traffic Controller is responsible for managing the flow of RAF aircraft in busy airspace at home and on operations. By working closely with military and civilian pilots and other air traffic control operators, they ensure everyone gets to their destinations safely. Controllers are quick thinking, good at problem solving and are always alert to potential threats to flight safety.
Ad blocker interference detected!
Wikia is a free-to-use site that makes money from advertising. We have a modified experience for viewers using ad blockers

Wikia is not accessible if you've made further modifications. Remove the custom ad blocker rule(s) and the page will load as expected.