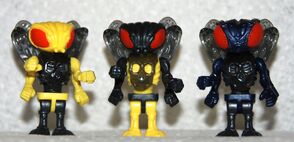 So... you've seen my many edits on this wiki and may be wondering - does he collect everything!
well the short answer is no! BUT... I do have a wide range of interests.
My primary interest is actually Halo Mega Bloks ! but I like the Character Building ranges, especially the mini-figures!
I've been a Doctor Who fan for longer than I care to rember, and have probably forgotten more about Doctor Who than most people ever know. I still prefer the classic series over the modern series. I have every DVD released.
I'm particulary interested in the Monsters Vs Zombies figures, Doctor Who monsters, Navy Service, Buqz (mini-bugz) and Steve Backshall mini figures.
please leave a post on my talk page if you have some to sell or trade. Tiki Elite (talk) 15:36, June 7, 2013 (UTC)
Ad blocker interference detected!
Wikia is a free-to-use site that makes money from advertising. We have a modified experience for viewers using ad blockers

Wikia is not accessible if you've made further modifications. Remove the custom ad blocker rule(s) and the page will load as expected.